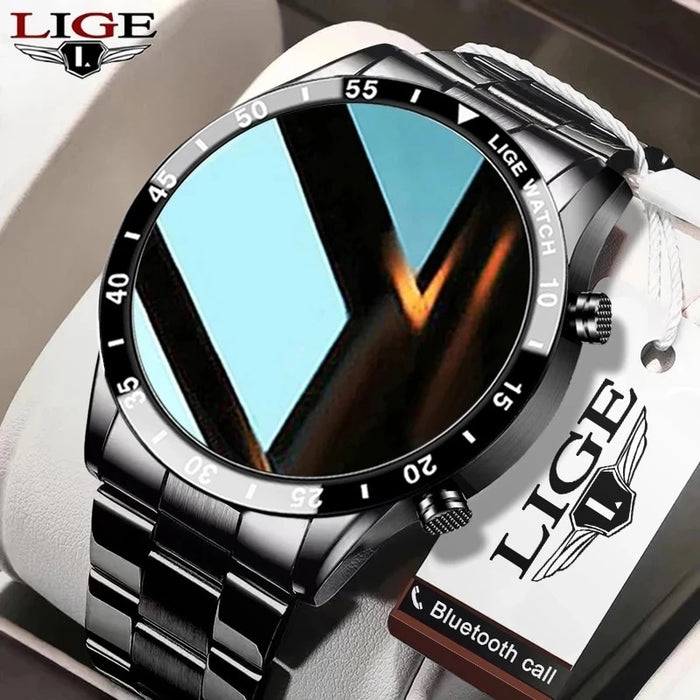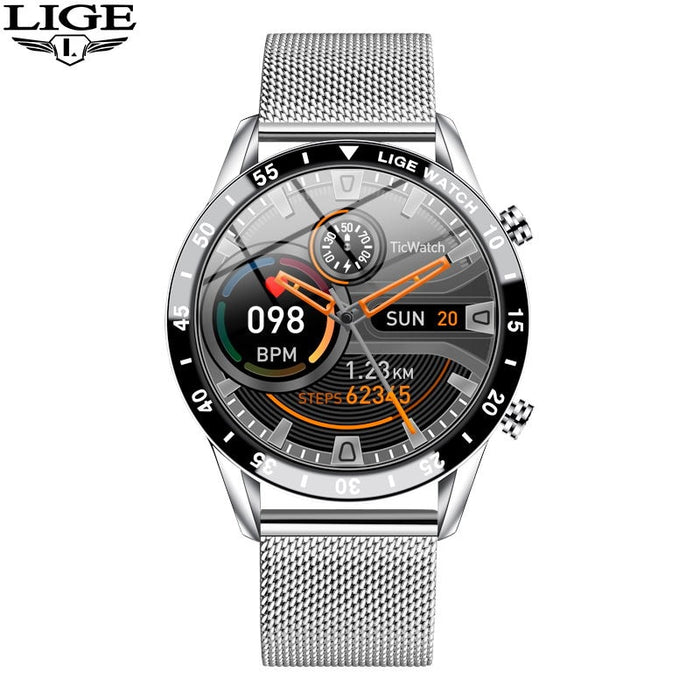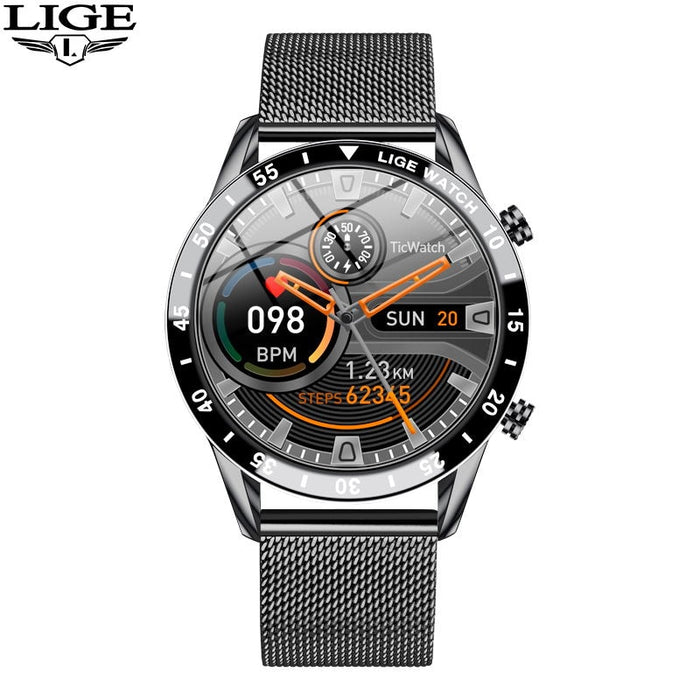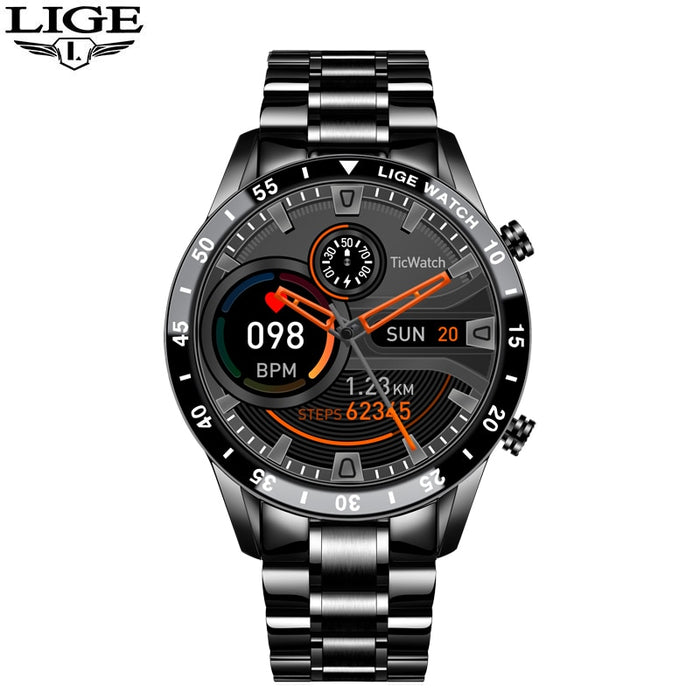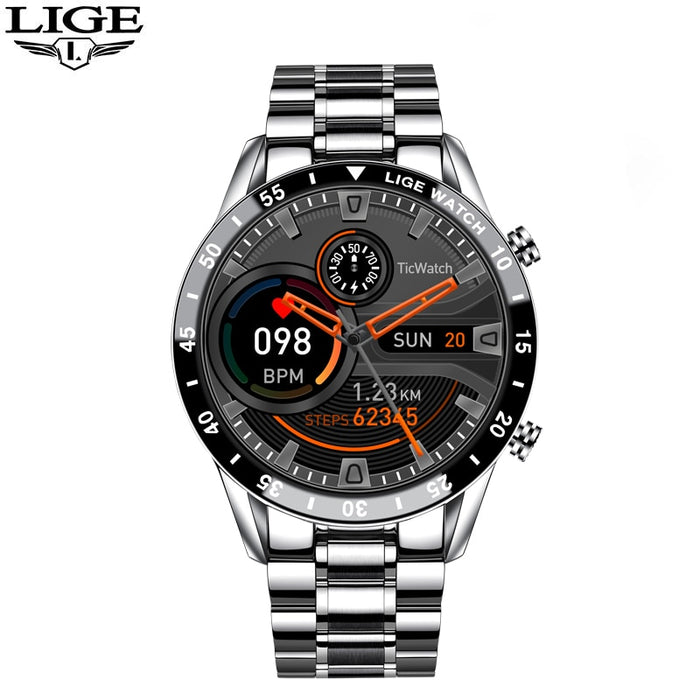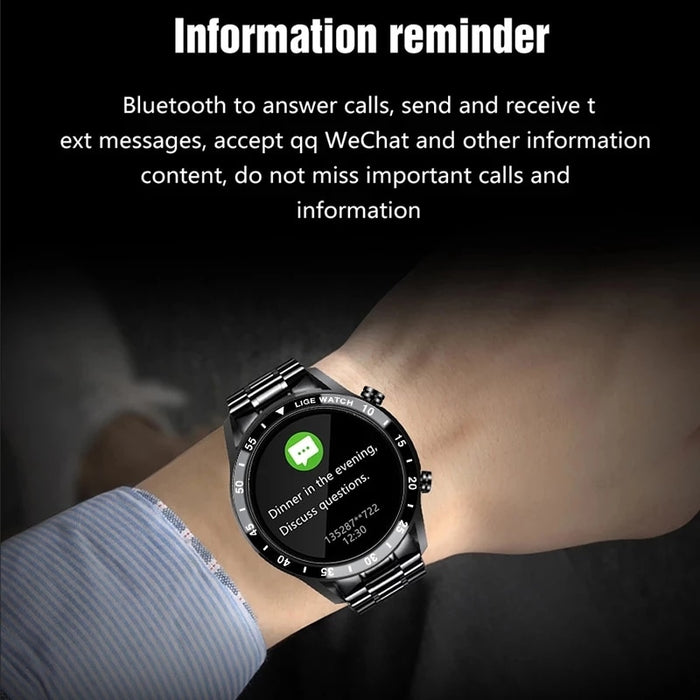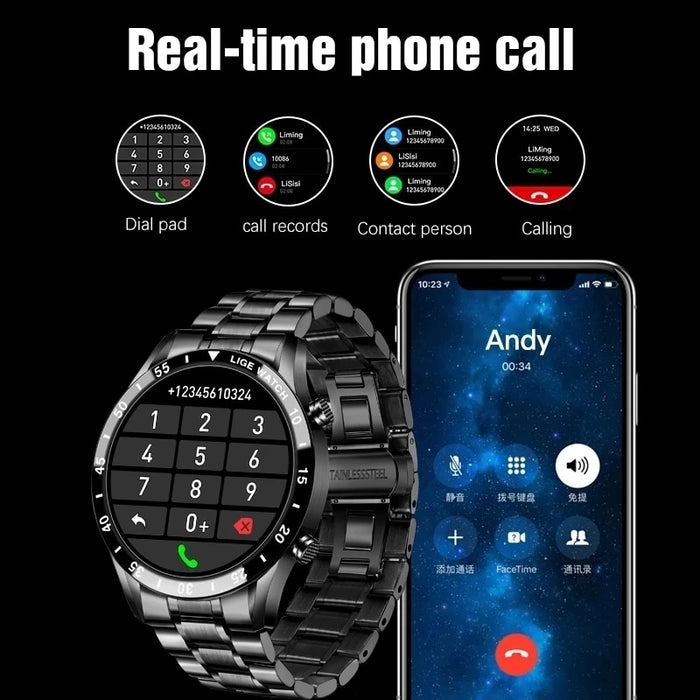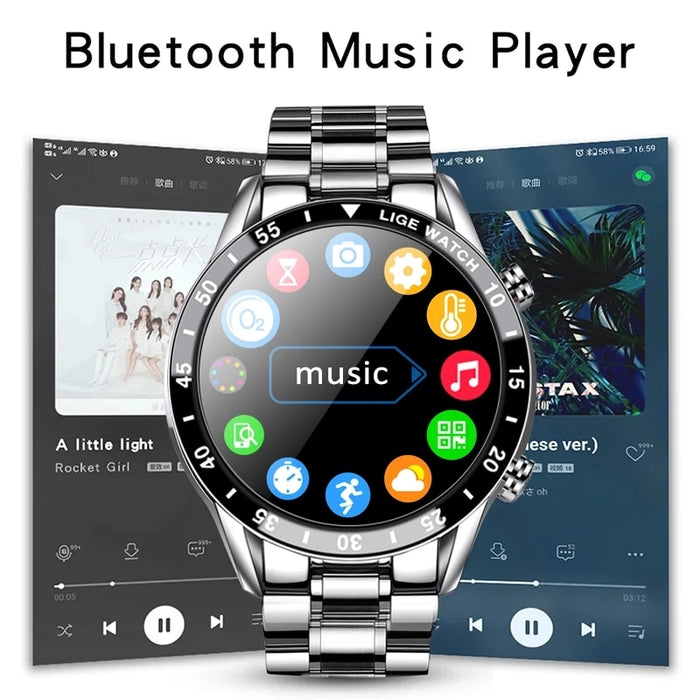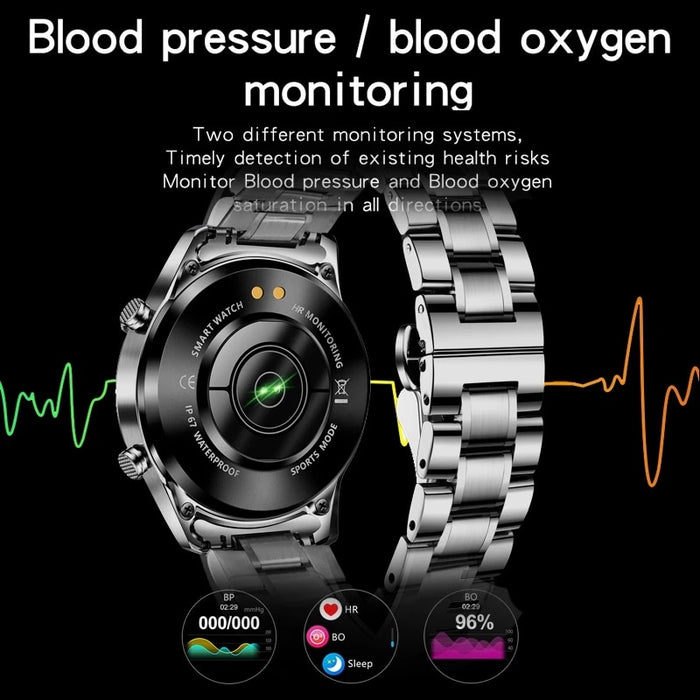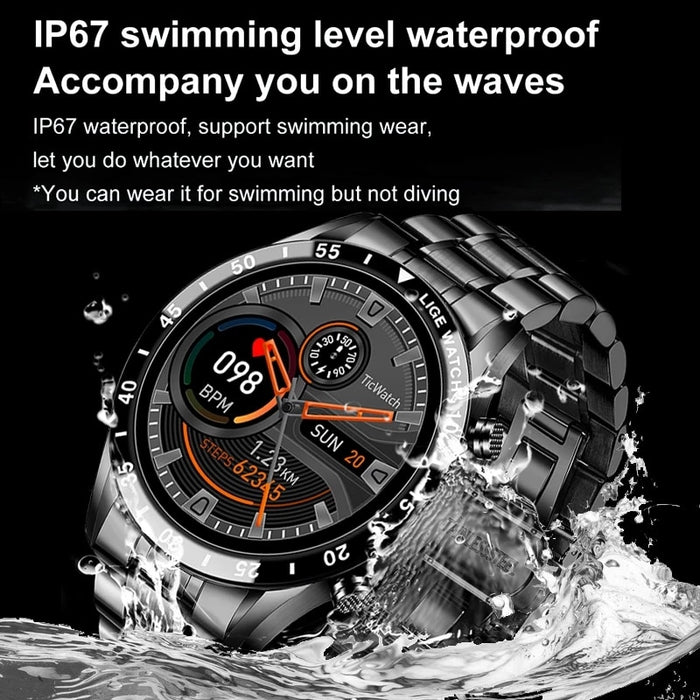 LIGE 2023 Full Circle Touch Screen Steel Band Luxury Bluetooth Call Men Smart Watch Waterproof Sport Activity Fitness Watch+Box
SKU
14:29#Black S;200007763:201336100
SPECIFICATIONS
women\'s smartwatch watch 2023: men\'s smartwatch watch
waterproof smart watch men: full touch smart watch men
waterproof smart watch for men: lige smart watch men
waterproof smart watch 2023: waterproof smart watch 2023 new
watch man smart watch 2023: smart man watch
watch for men smart: men\'s smart watch 2023
sports smart watch for men: smart watch for men huawei
sport smart watch men: smart wrist watches for men
smartwatch smart watches for men: smart watch for men free shipping
smartwatch for women: Strap for smartwatch
smartwatch digital watches: Woman smartwatch
smartwatch bluetooth call: bluetooth call smart watch men
smart watches smartwatch free shipping: smartwatch smart watches for men
smart watches for men with free shipping: men\'s sports smart watch
smart watch women lige: smart watch lige smartwatch 2023
smart watch women bluetooth call: bluetooth call smartwatch
smart watch woman smartwatch 2022: WATCH WOMAN SMARTWATCH
smart watch steel band: lige steel band smart watch
smart watch stainless steel band: steel band smart watch
smart watch men bluetooth call: Bluetooth Call Smart Watch Men Male Smartwatch
smart watch man smartwatch 2022: smart watch for men 2023
smart watch man new 2023: 2022 waterproof smart watch 2023
smart watch man 2023: smart watch man 2023 new
smart watch lige: smart watch lige 2023
smart watch for men: smart watch men 2023
smart watch for business: business and sport smart watch
smart watch business: business smart watch men
smart watch 2022 for men: smart watch man watch
smart lige watch: lige sports smart watch for men
new waterproof smart watch 2023: new 2023 waterproof smart watch 2022
new smart watch man 2023: 2023 smart watch man 2023
new 2023 smart watch man smartwatch 2022: smart watch man smartwatch 2023 new
new 2022 smart watch man 2022: 2022 new smart watch man 2023
new 2022 lige smart watch men: smart watch men lige
men\'s waterproof smart watch: smart watch men android
men\'s smartwatch 2023: Men\'s watch smartwatch
men wrist watch smart watch: smart men\'s watch 2023
men wrist watch smart: Men\'s smart watch smart watch
men waterproof smart watch 2023 new: new men waterproof smart watch 2023
lige smart watch woman: smart watch men lige 2023
lige smart watch men new: new lige smart watch men
lige smart watch men 2023: 2022 lige smart watch men
lige smart watch for women 2023: lige 2023 smart watch
lige smart watch for men: smart watch men free shipping 2023
lige smart watch bracelet: lige women smart watches 2023
lige smart watch 2023 for men: lige 2023 smart watch
lige smart watch: lige smart watch 2023
lige men\'s smart watch: smart watch men 2022 free shipping
lige 2023 smartwatch: Smartwatch watch men
lige 2023 smart watch women: smart watch bluetooth call
lige 2023 smart watch: lige smart watch for women
lige 2023 new smart watch: men\'s lige smart watch
lige 2023 men\'s smart watch: men\'s lige 2023 smart watch
function:9::: Fashion smart watch
function:7::: smart watch
function:6::: heart rate monitor watch
function:5::: watch pedometer
function:4::: sport watch
function:3::: fitness watch
function:1::: smart watch men
function:12::: Calls to remind,Remote photography, etc.
function:11::: Pedometer, stopwatch, message reminder, etc.
function:10::: Heart rate, blood pressure, sleep, alarm clock, etc.
business sport smart watch: LIGE Business Men Smart Watch Bluetooth Call
business smart watch for men: smart watch men business
business smart watch: smart watch business sport
business men\'s smart watch: men\'s business smart watch
bluetooth call watch: smartwatch call bluetooth
bluetooth call smart watch: 2023 new bluetooth call smart watch
Wi-fi: no
Waterproof Grade: Professional Waterproof
Voice assistant built-in: YES
Type: On Wrist
System: Android Wear,Android OS,IOS
Style: Fashion
Smartwatch smart watch waterproof: smartwatch men 2023
Smartwatch men\'s watch: smartwatch smart watches for women
Smart wrist watch men: watch for men smart watch
Smart watch man smartwatch: smart watch for men original 2023
Smart man smart watch: smart watches 2023 men
Screen Shape: Round
Screen Material: TFT
SMART WATCH SMARTWATCH: Smartwatch watch
SIM Card Available: No
Resolution: 240*240
ROM: <128MB
RAM: <128MB
Origin: Mainland China
Multiple Dials: Yes
Movement Type: Electronic
Metrics measured: Heart Rate Monitor,Other,Blood Oxygen Monitor,Sleep Monitor,Blood Pressure Monitor
Mechanism: Yes
MAN SMARTWATCH: smartwatch for men
Latest model:: Steel belt smart watch
Language: English,Russian,Spanish,Polish,Portuguese,French
LIGE Model: smartwatch
Important information 2: Smart watch that can make calls
Important information 1: Can answer the phone smart watch
GPS: No
Function: Passometer,fitness tracker,sleep tracker,Message Reminder,Call Reminder,Answer Call,Dial Call,24 hour instruction,Chronograph,Alarm Clock,World Time,Permanent Calendar,Heart Rate Tracker,Interactive Music,Noctilucent,Calendar,Countdown
Display Size: 1.3inch
Compatibility: All Compatible
Certification: CE
Category: Smart Watches
Case Material: Alloy
CPU Manufacturer: Mediatek
Brand Name: LIGE
Bluetooth-compatible Version: 5.0
Battery Detachable: No
Battery Capacity: 180-220mAh
Band Material: Alloy
Band Detachable: Yes
Application Age Group: Adult
App name: Steel belt men's smart watch
Activity Tracked: Other,Steps Tracker,Distance Tracker,Calorie Tracker,Activity Tracker
APP Download Available: Yes
2023 smart watch man smartwatch 2022: new smart watch man smartwatch 2022
2023 new waterproof smart watch 2022: men waterproof smart watch 2023
2023 new business men smart watch sports: smart watch men business 2023
2023 Bluetooth Answer Call Smart Watch Men Heart: smartwatch watches 2023
2022 smart watch men: waterproof man smart watch
LIGE brand men's smart watch Bluetooth call smart watch and multi-function smart watch with a variety of wallpapers to choose from.
Smart watches contain chargers, instructions and boxes, which can be given to yourself, family and friends as gifts.

Screen:1.3-inch IPS high-definition full-fit round screen
Touch Panel:Full touch screen
Charging method:Magnetic charging
System version:Android above 5.4
Receive/Reject phone calls/ Dial phone call,Heart rate monitoring,Blood/Blood oxygen pressure monitoring,Sleep monitoring,Sedentary reminder,ports pedometer/calorie consumption/track record/exercise time,Call reminder and display,Message is pushed and displayed,Remote control camera,Automatically heart rate measurement,Multi-Sport,measurement,Clock reminder,Alarm reminder,5 kinds of dials default. APP customized watch faces are optional.
Bracelet supports languages:English,Chinese, Spanish, French,Russian, Portuguese, Polish
APP(WearFit 2.0) support language:
English, Japanese, Korean, German, Spanish, French, Italian, Russian, Portuguese, Arabic,Chinese,
Host, charger, wrist strap, manual, box
after receive the watch ,please charging first.Because after a long period of logistics, the watch has a low battery.Before using, scan the QR code on the manual to download the app and connect it to the watch with APP.